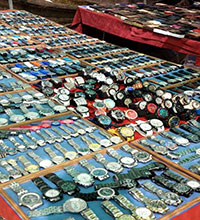 Rewarding fight against counterfeiting in Spain
As part of its activities to curb counterfeiting in Spain, the FH organises each year a programme of actions during the summer season. In 2014, four regions were targeted, namely the Canary Islands, the Balearic Islands, the Costa del Sol and the Costa Brava. This raft of actions proved hugely successful, since more than 3,700 fake watches were able to be seized at different markets, including more than 1,600 on the island of Tenerife, in the Canaries. While counterfeiting remains very prevalent in Spain, efforts made since 2007 in collaboration with local partners have given full grounds for satisfaction.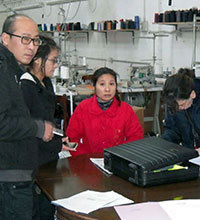 Massive anti-counterfeiting operation in Tuscany
On 11 July this year, at the end of a rapid and efficient investigation, the Italian public prosecutor ordered a large-scale operation in the area between Prato and Empoli, near Florence. The workshop bosses, eight Chinese nationals, were arrested, and an impressive quantity of goods, dispersed over several sites, were confiscated. More than 600,000 watchmaking components were seized, including 15,000 finished watches awaiting distribution.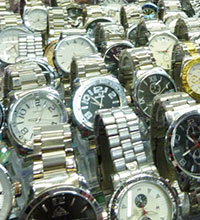 Seizure of counterfeit products during the World Cup
Brazil this year played host to the twentieth football World Cup, in the process attracting large numbers of tourists from all four corners of the globe. Hence a golden opportunity for counterfeiters, faced with a multitude of potential customers. The FH took the decision to intervene at this international event in order to show forgers once again that it was keeping its weather eye open. In total, nearly 7,500 timepieces were confiscated and will therefore not find takers among the many potential buyers.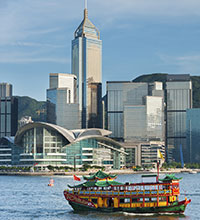 The FH at the INTA's annual meeting
More than 8,500 participants from 140 countries attended the annual meeting of the International Trademark Association held in Hong Kong. The FH, which takes steps worldwide to oppose and combat counterfeiting, took advantage of the occasion to meet with dozens of legal practices whose services it calls upon around the world, from Venezuela to Great Britain and Taiwan, and to discuss «day to day business» as well as global strategy.
Discussion forum with English jewellers
The Goldsmiths' Company, a centuries old British institution, has for several years organised a day of reflection on the general theme of counterfeiting. On that occasion, the FH took part to a seminar intended primarly for fellows, i.e. clock and watch retailers who are members of the institution. Discussions about strategy and main objectives of Swiss watchmakers in their fight against counterfeits were followed by a number of identification exercises.